Last Winter Break, devotees of Jagadguru Shree Kripaluji Maharaj at the JKP Dallas Center organized a 7-day long camps for children and their parents in the Dallas area. All the camps had overwhelming response from adults and kids.
This camp was presented by Swami Nikhilanand Ji, a pracharak of Jagadguru Shree Kripaluji Maharaj a representative of JKP Barsana Dham, and main focus of the camps were to impart to the Hindu kids growing in North America salient information about Hindu religion and culture aimed at developing the spiritual side of their personality which is often ignored in the hustle bustle of today's environment. Each day Swami Nikhilanand taught a unique topic about Hinduism in concurrent sessions to adults and children. These camps provided a classroom format learning experience with lots of GAMES, role-plays, score-cards and tons of cool prizes to win, absolutely FREE.
During the Summer Holidays, Swami Nikhilanand is going to return to Plano to present a sequel called 'Basics of Hinduism II for Children and Their Parents'.
The main topics for the camp will be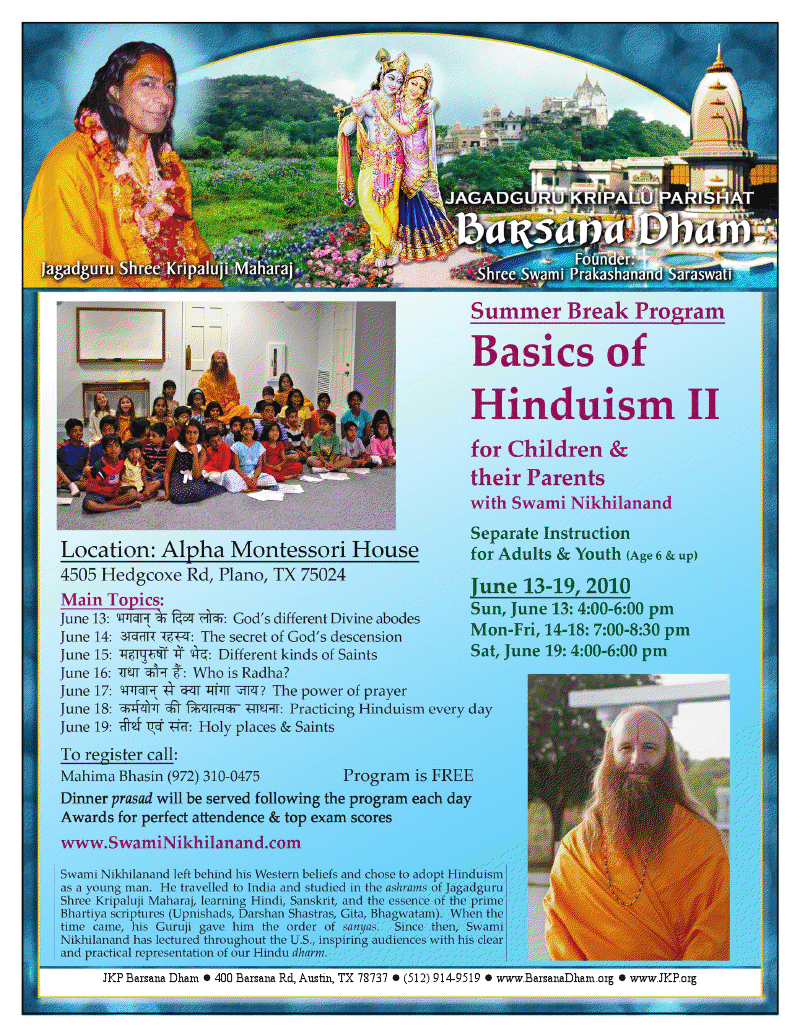 June 13: God's different Divine abodes
June 14: The secret of God's descension
June 15: Different kinds of Saints
June 16: Who is Radha?
June 17: The power of prayer
June 18: Practicing Hinduism every day
June 19: Holy places and Saints
Separate instruction for adults & youth (Age 6 & up)
Times:
Sunday, 13th: 4 - 6pm
Mon - Fri, 14th - 18th: 7 - 8pm
Sat, 19th: 4 - 6pm
Register: Mahima Bhasin (972) 310 - 0475
Dinner prasad will be served following the program each day
Awards for perfect attendance & top exam scores
Program is free
Invite all your family and friends from the Dallas area to attend this devotional and educational event.
Jagadguru Kripalu Parishat (JKP) was founded by Jagadguru Shree Kripaluji Maharaj, our beloved Shree Maharajji, the fifth prime Jagadguru in the last 5000 years.
Founded in 1990, the Barsana Dham Temple and ashram campus serves as the national center of Jagadguru Kripalu Parishat in the United States and is one of the largest Hindu temples in North America.