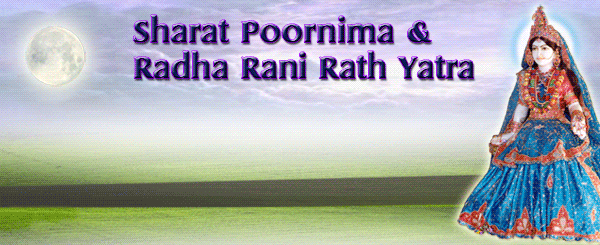 Sharat Poornima (शरत्‌ पूर्णिमा) is that Divine night when Radha Krishn revealed the supreme Bliss of maharas to uncountable Gopis in Vrindaban about 5,000 years ago. It is the full moon night which falls in October. This day is very precious in our lives for an additional reason as well: our beloved Shree Maharajji (Jagadguru Shree Kripaluji Maharaj) appeared on that night in 1922 in Mangarh, India. Whereas the devotees in Mangarh participate in a procession (yatra) with Shree Maharajji seated on an elegantly decorated chariot (rath), here at Radha Madhav Dham we have a procession with Shree Radha Rani seated on a flower adorned chariot.
So on this most auspicious and important day, we begin the celebration with bhajans on the Temple steps as we wait with great anticipation to welcome Shree Radha Rani magnificently enthroned on Her beautifully garlanded chariot for the Rath Yatra (रथ यात्रा). Thousands of flowers and petals shower down as we do the arti to Shree Radha Rani. With the blowing conches, singing and dancing, the procession begins on a lovely path through Radha Madhav Dham accompanied by continuous nam sankirtan. After a break at Shyam Kuti, we continue back to the Temple for arti, a discourse and more devotional bhajans as well as a special darshan of the Deities in the shrine. After lunch prasad, we meet again in the Temple for a magnificent cultural program of dancing and Radha Krishn leelas.
We are looking forward to our Annual Intensive and Rath Yatra and once again being with all the devotees. The Rath Yatra is a long standing tradition of Radha Madhav Dham not seen anywhere else in the West. The Divine vibration at our Ashram is palpable and the personal benefit will be immense to everyone who comes and avails themselves of its serenity, beauty and wonder for the whole week. We sincerely hope that each and every one of you can join us for this amazing week of devotion and celebration.
To make this year's Rath Yatra celebrations even more joyous and devotional, Radha Madhav Dham temple brings you the legendary Bhajan Samrat of India, Anup Jalota. The beautiful bhajans of Radha Krishn, sung by Anup Jalota in his melodious voice, performed inside the Divine temple of Shree Raseshwari Radha Rani is a spellbinding combination that is sure to touch your heart with devotional vibrations and bring you closer to Radha Krishn.
Tickets are on sale now at Sulekha.com/Austin. Book your tickets and join us for Radha Rani Rath Yatra on Saturday, Oct 8th. Let us make this celebration the most memorable and joyous experience for you and your family.
For more information, or to book your overnight accomodations call us on (512)-288-7180 of visit our website at www.RadhaMadhavDham.org